We have gotten a plethora of new product in this week, especially concentrates! We got in new flower shipments from Wow! Weed, and concentrates from Dab Dudes/Hi Guys and Phat Panda. Check out our menu for pricing and potencies!
Super Lemon Haze – Rogue Raven Farms
This Sativa-dominant hybrid from Rogue Raven is perfect with a cup of coffee to start your day. This citrusy delight offers uplifting, focused effects with a slight euphoric kick (because who doesn't like the giggles?). This topshelf strain is testing at 16% THC, but don't be fooled by the numbers; this tasty treat packs a heady punch.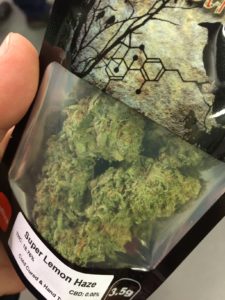 God's Gift – Phat Panda
We got a new delivery from Phat Panda, so you know there's something worth mentioning. God's Gift is no exception. This Indica crosses two classic hard-hitters: Granddaddy Purple and OG Kush. This strain is uplifting and relaxing, making for a great evening smoke. Phat Panda God's Gift is testing at 19%.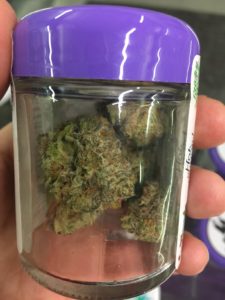 G-Stiks – They're back!!
Our shop favorite, G-Stiks, have returned to Marijuana Mart! These one-gram joints are made with pure flower and dipped in 83% CO2 oil, adding an extra kick. These joints make excellent stocking stuffers for the cannasseur in your life! They are available in Indica, Hybrid, and Sativa. Stevi, one of our budtenders, is shown below showing how she feels about these awesome joints being restocked!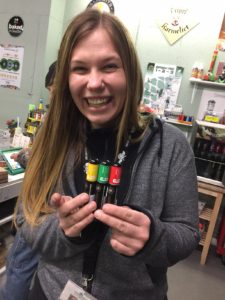 Panda Glue Wax – Phat Panda
This Hybrid Hi-Terp Sugar is an excellent choice for a dabber who enjoys extra-delicious, terpy dabs. This concentrate is sweet and delivers a perfect, in-the-middle high: mental creativity and a relaxing body high. Panda Glue is testing at 85%, before terpene profile.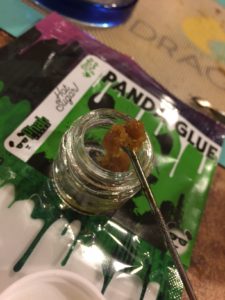 Ewok – Wow! Weed
Wow! Weed has been killing it lately. You may recognize their name from their infused pre-rolls or their Acapulco Gold flower. This Ewok is no different. This Indica is testing at a whopping 35% and is loaded with an earthy berry aroma. Be prepared to melt down and enjoy the ride.